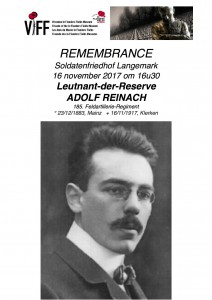 Reinach Remembrance Speech, Langemark 16 November 2017
Who was Adolf Reinach? I have been asked this question many times over the nearly 19 years I have studied, translated and written about this man. I could address this question with his biographical details, the events of his life that ultimately ended with his death here in the Flanders region, but that doesn't really answer the question properly or begin to explain his importance. Many of these details are also in the souvenir booklet we have prepared for you.  (PDF of the booklet can be found below.)
First and foremost, Adolf Reinach was a philosopher in every sense of the word. He discovered Plato while at grammar school and was immediately gripped by the content and style, and it was then he decided on his course of study at university. The analysis of words, expressions, and meaning was very much essential to his approach on any topic. Philosophy informed his other university studies, those being law and psychology. His 1905 PhD dissertation was titled 'On the Concept of Causality in the Criminal Code', and it explored the relationship between psychology and law while attempting to tackle the problem of knowing the intentions of law-makers when we only have their words to go by. First a student of Theodor Lipps and later Edmund Husserl, he became a phenomenologist (simply put, a philosopher who seeks to investigate and understand the structures of consciousness and in relation to our experience of the world around us). Here, Reinach utilizes both Plato and Aristotle, and his philosophy becomes elevated: phenomenology provides him with the tools for describing experience, as well as a method, and he sees the door open to a world of entities – social acts like promises, jurisprudence, ethics, etc. He lived this love of Plato and Aristotle right to the end of his life, on this day in 1917.
On the battlefield from 1916-1917, he probed the question of the experience of soldiers at his camp who experienced a forewarning of their death. After overhearing a conversation between a staff sergeant and an infantryman about soldiers who predicted their own death and it happened that same day, he seeks to understand this experience and possibly discover knowledge about it. He isn't willing to give into superstition, nor is he willing to write off the experience as one resulting purely from stress. He writes,
in me a world ascends, for a long time, long immersed in anything but the suffocating activity of the soldier in war. What are proper forewarnings? … Whether forewarning carries justice or truth in itself, I do not have the means to say; it is impossible to say before I know what its proper essence is…. However, already the desire of the phenomenologist is awakened in me, to single out from the fullness of the appearance the structure, to hold it, to let it sink in and with it, what so far only the word meaning was acquainted with, henceforth it is to achieve intuitively the essence itself.
Through the rough notes, he develops some characteristics of forewarning: 1. It occurs suddenly and abruptly, 2. It has certainty and necessity about it, 3. In relation to the last point, one is helpless and cannot control their demise, 4. The experience is very detailed and specific, and 5. It is individual, personal and unique, and thus it is not accessible to others.
It's worth noting, in a sort of dark irony, Edith Stein remembers Reinach referring to his closest circle of friends that included herself as "mourners in the first rank" when he visited home on furlough for Christmas 1916. It often makes me wonder if he had a forewarning of his death.
The other rough notes from his days at the Front are on the topic of religion, investigating the structure of religious experience as well as the nature of Das Absolute. These notes relate to the experience of forewarning, in that Reinach calls the experience of God "experience-immanent knowledge" meaning:
To be judged quite differently … is a perception in relation to knowledge of actuality insofar as the latter must always refer back to the perception for its verification. There is, after all, even in the perception a taking-as-real, though not an actual knowledge. Quite otherwise is the taking-as-reality in feeling oneself sheltered by God; logically speaking, the former is the presupposition for the latter. However, no one would draw a logical conclusion from this. It is rather immanently contained in the sense of the experience itself. Here we must separate two aspects: on the one side the knowledge of the being-sheltered, and on the other side the knowledge of the being-there of God, i.e., immediate and mediate immanent knowledge.
When one feels sheltered by God, that knowledge is verified in every moment of feeling 'being-sheltered' and is not something that can be called objective knowledge: being-sheltered cannot be known or understood apart from she who experiences being-sheltered; it is a kind of knowledge that only can be known (in the strictest sense) by the experiencer. Hence, like forewarning, the experience of being-sheltered by God is subjective, an individual knowledge disclosed through the feeling of being-sheltered in which I experience myself as in a relationship with God. Not only do these notes help shed light on Reinach's incomplete discussion of forewarning, but they also help one to understand his religious conversion. During furlough in 1916, Reinach along with his wife converted from Judaism to Protestantism. When reading his explorations and descriptions of being sheltered by God, I cannot help but think that this feeling he describes so beautifully is what got him through his days on the field in Passchendaele and other difficult battles. Until war, there was no mention of religion or God in any of Reinach's notes.
In a letter to his good friends, the Conrads, Reinach said: "I believe that phenomenology can provide that which the new Germany and the new Europe stand in need of, I believe that a great future lies open to it…" and while the exact meaning he had in mind isn't known, one can see his passion for philosophy and his faith that it could help aid in the post-war rebuilding and mindset.
The second important thing to know about Reinach was that he was a good man, well-respected and adored by all who knew him. In his eulogy for Reinach, Husserl wrote that German philosophy had sustained a severe loss with the death of Reinach, and we see phrases of high praise like "what a wealth of brilliant ideas were at his disposal" and that his writings contained "a wealth of concentrated insights and worthy of the most fundamental study." Reinach was Husserl's student, colleague and dear friend, and sometimes his peacemaker. Husserl could be a strong personality at times. One instance of this happened during WWI, when there was a dispute over a manuscript written by Hedwig Conrad-Martius that Husserl took issue with. Hedwig wrote to Reinach on the field about the squabble, and Reinach set to work settling it, and over the course of a few months and some letters to both parties, the issue was resolved peacefully.
When you read the words of his students, the most notable example being Edith Stein, you can feel how much they admired and respected him. Many times Stein says in her incomplete autobiography that the moments spent in Reinach's study speaking with him or in his seminars were, "impossible to express how much joy and gratitude I felt." It is important to also note that Reinach supported and encouraged his female students, at a time when many male professors were not in favour of women matriculating and attending classes at university. His respect for women was definitely a part of his core personality and present from an early age, but I also believe his wife, Anna, had some influence here as well. She was a brilliant, well-educated woman. In 1899, she was one of three female students of the newly founded Stuttgart Mädchengymnasium, graduating with a high school diploma in 1904. In that same year, by royal decree, women were granted the right to regular enrolment at University of Tübingen, and she earned her doctorate there in 1907 with a thesis on the spectral lines in magnetic fields in atomic physics. The Reinachs were described by students like Stein as a loving, warm and intelligent couple with a home that was always welcoming. After Reinach's death, Edith and Anna became very close friends. Because of Anna's great strength and faith after losing her husband, Edith credits her largely for her own conversion to Catholicism.
The last thing I can say about Adolf Reinach is that he was proud, maybe to a fault, but nonetheless proud to be a German. He and so many German intellectuals immediately volunteered for the army with great enthusiasm when war was declared, even attempting to exercise pressure to be admitted as quickly as possible. In a conversation with Edith Stein and Fritz Kaufmann about his enlistment in the army, Adolf Reinach said, "it is not that I must go; rather I'm permitted to go." When he was awarded his iron cross, he describes it as the proudest moment of his life and, especially when taking into consideration the difficult times and near-death experiences, it grew more in meaning for him. He was proud to serve his country, even when the things he witnessed were horrific and painful. He witnessed some of his students die in battle, along with thousands of other young talented men. Most letters express a hope that the war would be over soon, and hints of his struggle to survive both mentally and physically. However, he maintains that Germany must win.
In his letters, there is also often surprising optimism, and we see this in his desire to return to classes, making future plans for trips, and of course plans to see his friends again soon. I can only imagine, had he survived the war, that what happened in Germany with the rise of Nazism would have disappointed and hurt him greatly. To see your beloved country adopting an ideology that describes Jews as Non-German and a like plague spread by rats is a slap in the face to your personal identity, your honour, and sacrifices.
I will end with some words from Husserl's eulogy for Reinach, as I find them most fitting here:
In the war itself he devoted his powers with never failing willingness to the fatherland. But his religious disposition was too deeply afflicted by the monstrous war experiences for him not to have had to venture an attempt at the time of a relatively quiet service at the front to develop his conception of the world (Weltanschauung) in the philosophy of religion. I understand that he in fact made his way to clarity satisfying to him: the enemy bullet struck one who was composed, fully in agreement with himself and God.
Thank you very much for being here with me to celebrate the life (and death) of Adolf Reinach.
Reinach.Remembrance