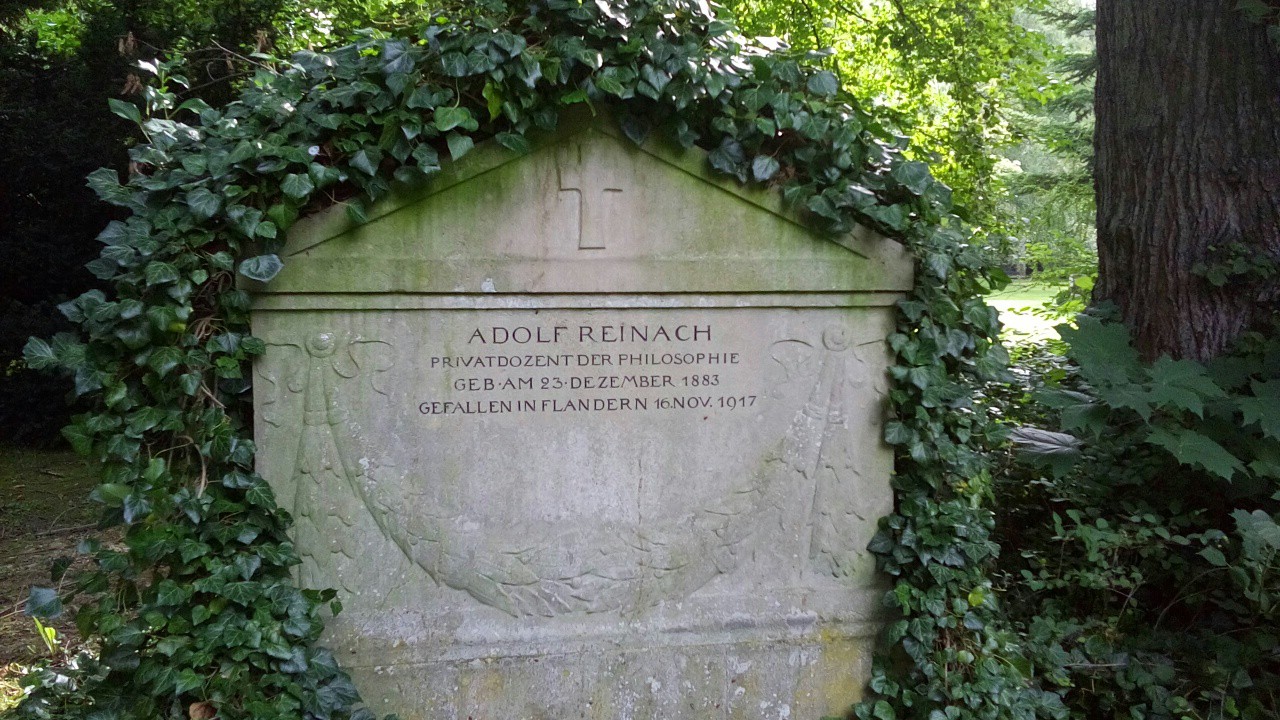 100 years ago today, there was a small and quiet funeral service held in the Göttingen City Cemetery for Adolf Reinach.  It was attended by his widow, Anna, and his closest friends and students, namely Edith Stein (who was also representing Edmund Husserl) and Dietrich von Hildebrand (who gave the eulogy).  The death of Reinach on 16 November 1917 in WWI and this New Year's Eve funeral event were described in a letter by Stein to Roman Ingarden as difficult days that "have left me incapable of happiness.  At the top of the list of all the things that presently depress me is the fact that I lack the strength to keep my sorrow to myself…" (Self-Portrait in Letters: Letters to Roman Ingarden, p. 88)  While his death affected her terribly, it was the steadfast faith in God that Anna exhibited during her grieving that positively affected the course of Stein's life. Shortly before her own death in 1941 or 1942, Stein told Johannes Hirschmann, a German Jesuit working in Holland, that it was witnessing Anna's faith in the months after Adolf's death that ultimately led to her decision to convert to Christianity.  It is quite amazing to think that both Reinachs were able to exercise such an incredible influence on Stein and in deeply life-altering ways: one academically, and one religiously.
When you read the words of Stein, and also von Hildebrand, Ingarden, and Husserl you can feel how much they respected and admired him, and the profound sense of loss they felt when he died. The published and rough writings convey clearly what a brilliant mind Reinach had, but the sentiments and descriptions of those closest to him tell the story of his character and heart. He was a good man.
As I mentioned in a previous post, the Friends of Flanders Fields Museum invited me to hold a remembrance for Adolf Reinach in the Langemark German Military Cemetery on 16 November 2017. Given that I have studied Reinach for nearly 19 years now and that, like his students and friends, he has influenced my academic life in manifold ways and I have come to adore him, I happily and with the greatest sense of honour accepted the invitation. Pieter Trogh, my colleague and friend at the Flanders Fields Museum, set about planning the service particulars, such as the advertisement, invitations to important people, and translating my text into Dutch for the pamphlet attendees would take away. He felt that holding the ceremony at the cemetery at 4:30pm, around sunset, would be fitting. We crossed our fingers tightly that the weather would behave. Pieter and I were also of the same mind that this remembrance should not have a playing of the Last Post, since that's British and very military, and thus not appropriate for a German soldier who was an academic first and foremost. Luckily Pieter has some very talented and creative friends at the Flanders Fields Museum, and one such fellow – Dries Chaerle – agreed to play a lovely German folk song by Friedrich Silcher called "Morgen muss ich fort von hier" on an autoharp.  I was told that after the remembrance it is tradition that you gather with the Friends of the Flanders Fields Museum at a small local pub for a drink.
The day of the remembrance Pieter and I spent the morning and early afternoon traveling around the Ieper Salient to cemeteries and battle sights.  The weather couldn't have been better – sunny and not too windy or chilly. We drove over to Langemark with some colleagues from the museum, and upon arriving noticed that the cemetery was somewhat busy, there were small groups walking about and then several landscapers using leaf blowers. We began the ceremony at a far corner of the cemetery to get away from the noise, the landscapers had a contract and couldn't stop until dark.  There were about 20 people there, most were members of the Friends of Flanders Fields, and then a few colleagues from the museum and someone from the Municipality of Langemark-Poelkapelle too – a bigger crowd than I expected, and they were such lovely, warm people.  The head of the Friends of Flanders Fields Museum spoke, then Pieter read a letter from the German Ambassador in Brussels (he couldn't attend but sent some lovely remarks about Reinach) and then he introduced me.  I spoke about Reinach for roughly 10 – 15 mins, a mix of some philosophy (keeping it light for a general audience), some bits from Reinach's battlefield letters, and some comments from Stein and Husserl about his character. I really tried to demonstrate to the crowd why I find him so important and worthy of 19 years of study. (I will share my laudatory speech in a future blog post.) With the leaf blowers now working far enough away, we walked over to the Comrades Grave (where his body is said to be, according to the Volksbund Deutsche Kriegsgräberfürsorge), near the Nachtrag stone where Reinach's name is listed. Dries spoke a few words about the Silcher song, and then performed beautifully.  Pieter and I then laid some wreaths together at the foot of the Nachtrag stone, one from the Friends of Flanders Fields Museum and one from the Municipality of Langemark-Poelkapelle. Then we concluded the remembrance, chatted a little and shook hands with everyone, and headed over to the pub to warm up.
It was a wonderful event and I am so grateful to the Friends of Flanders Fields Museum and my colleagues/friends at the Flanders Fields Museum for their efforts and willingness to have this remembrance. Reinach remains celebrated and adored 100 years later. I think Anna, Stein, von Hildebrand, and the others would be happy to know their dear Reinach is not forgotten.